Dauphin Island Roof Cleaning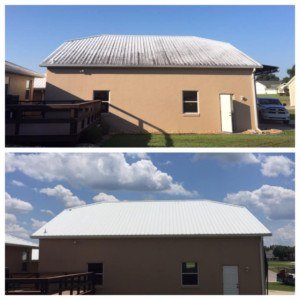 This galvalume metal roof had extreme algae growth until they gave us a call. This metal roof has a powdered coated paint finish which does help greatly when protecting your investment, but algae and organic growth still tends to build up on any surface if not cleaned regularly. Mobile, Alabama is known for it's old live oak trees which produce a large amount of bio growth on all surfaces including the siding of your house. We have cleaned many metal siding commercial buildings which is the same situation except a vertical surface instead of a more flat surface like your roof. It is extremely dangerous to try to clean your metal roof yourself as when metal gets wet it turns into a slip n slide and you do the rest of the math on that one! We highly recommend your hire a trained and certified professional to do a roof cleaning job. Metal roofs are very sturdy, aesthetically pleasing, and boast a long life span. However, all paint finishes over time will oxidize or turn chalky to the touch. We also have a procedure to remove the oxidation to brighten your roof and make it shine once again. Every job including the word "roof" is always physically demanding and dangerous, so once again, make sure you hire a real softwashing professional with years of experience under their belt! We have cleaned roofs from Alabama, Mississippi, Louisiana, Florida, and even trained companies in Tennessee on how to clean metal roofs properly. Our main service areas are Mobile, Alabama to Biloxi, Mississippi, to Pensacola, Florida. We love serving the people on the coast!
Gallery Of Dauphin Island Roof Cleaning
If you are looking for roof cleaning in Dauphin Island, then please call 251-263-5057 complete our online request form.