Asphalt Sealing To Make Your Hardscapes Look Brand New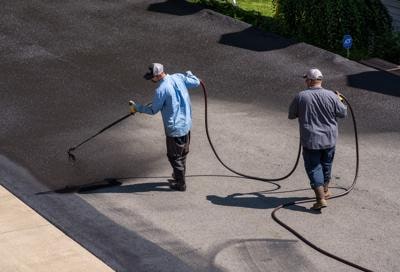 If your Daphne driveway or parking lot has lost its original luster, it's time to call the team at SoftWasherz for asphalt sealing. We know just how much wear and tear your asphalt hardscapes go through daily– foot and vehicle traffic, exposure to sunlight and rain, and much more. After years of this, your asphalt will surely begin to fade, crack, and deteriorate. However, this can all be avoided with asphalt sealing from SoftWasherz! Our sealing services will help you extend the life of your hardscapes and bring back their rich black color. Your parking lot or driveway will look as new as the day it was poured, if not more so. So when you want to see your asphalt surfaces restored and brightened in less than a day, don't hesitate to call the power washing experts at SoftWasherz for asphalt sealing. We know you'll love how your asphalt looks once we're done with it!
Why Get Asphalt Sealing Services?
Similar to concrete sealing services, asphalt sealing is when our experts apply a specially-formulated liquid coating to your asphalt surfaces. As it dries, this liquid creates a water-tight seal on top of the asphalt that also protects from sun damage and chemicals that can cause your surfaces to deteriorate over time. Sealing your asphalt also reduces friction on the surface, resulting in a smoother driving or parking area. This is a great way to protect your driveway or parking lot from damage so you don't have to pay for repairs down the line. No one wants to spend thousands of dollars on a total replacement or resurfacing when you can just get high-quality maintenance through asphalt sealing.
One application of asphalt sealing will typically last two to three years, meaning you don't have to reseal very often. Depending on your asphalt's age and condition, however, it could require annual coatings to maintain appearance and protection.
When you want to extend your asphalt's lifespan by slowing down the wear and tear that comes from weather, traffic, and other elements, it's smart to invest in asphalt sealing from SoftWasherz. Our friendly team is made up of power washing professionals who will be able to give you the highest quality results in the Daphne area. Give us a call today to learn more about our asphalt sealing and our other services, like rust removal.
If you are looking for a asphalt sealing company in the Daphne, AL area, please call 251-263-5057 complete our online request form.