Why Soft Washing Is Better For Your Home!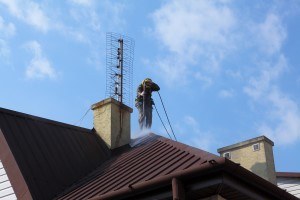 Our Daphne, AL soft washing company uses a water-based biodegradable chemical to break down dirt and grime, remove bug nests and webs, kill mold, mildew, algae, and bacteria, leaving the surface clean and sanitized.
Soft washing can be performed on a wide variety of surfaces where algae and bacteria grow. It is especially effective for roof cleaning. The same bacterium that creates the black streaks on roofs can also grow on:
Concrete
Brick
Tile
Wood
Vinyl Siding
Aluminum
And more...
If you're trying to find a soft washing company to eliminate what's growing on the surface of your roof, building, deck, or fence, call SoftWasherz in Daphne, AL today.
3 Reasons to Choose Soft Washing
1. Substitute for pressure washing: Pressure washing creates erosion and strips away materials that might have been loosened up by decomposition or aging. The right time to use pressure washing is when cleaning flat-work such as concrete and other durable areas where the stains must be lifted by treating them with a soft wash solution.
2. It actually treats the infestation: Your home isn't only dirty - it's infected. Regular pressure washing simply gets rid of the outer layer of this biomass and doesn't resolve the root of the problem, leaving your surface susceptible again not long after power washing is finished.
3. No damage from pressure: Inadequately trained or inexperienced power washers can cause serious damage to a roof or other surfaces, especially if it's older to start with.
If you are ready to hire a professional soft washing company for your Daphne, AL area home, please let our technicians provide a free estimate. We would also be happy to give you a soft wash demonstration so you can see how effective it is.
Our Recent Softwashing Projects
If you are looking for a professional pressure washing company in the Daphne, AL area, please call 251-263-5057 complete our online request form.