Fairhope Awning Cleaning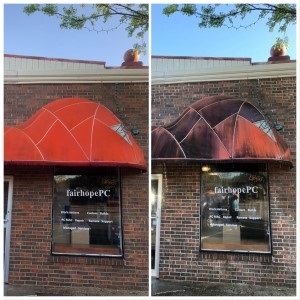 Awnings that aren't maintained regularly are a thriving habitat for organic bacteria and bio-growth. We were able to bring most of this awnings original color back with this restoration at Fairhope PC in Fairhope, Alabama. We follow our 3-step process when cleaning awnings and that is Saturate, Treat/Agitate, Rinse. We also can provide a UV coating on awnings to preserve the life of your awning to last many years to come! If you would like to know more about our exterior commercial cleaning then give us a call at 251-263-5057.
Fairhope Awning Cleaning
If you are looking for Awning Cleaning in Fairhope, then please call 251-263-5057 complete our online request form.