Commercial Pressure Washing In Spanish Fort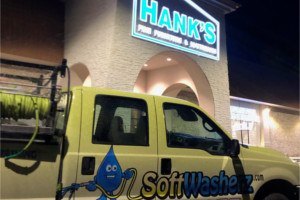 Hank's Fine Furniture was cutting it close to the deadline and needed a post-construction clean-up prior to their grand opening the next morning. Hank gave us a call at 0900 in the morning and voiced that they were in great need of a clean-up for their grand opening and we answered the call, arrived on scene around 1200 noon and scheduled the cleaning for 1600 or 8PM that night to begin and have it completed by 0400 the next morning for customers to arrive. The landscape crews were working hard, the construction guys were still applying fresh dryvit, EFIS, or composite stucco and we began washing shortly after the dryvit was installed and it was still wet and drying when we were washing. We constructed several custom shields to cover the wet stucco areas so we could wash around there without messing up the finished product. Needless to say, mission complete, and successful!
The parking lot was loaded with pieces of sheetrock, stucco, nails, rocks, wood, misc construction items, pinestraw pieces, dirt, screws, sheetrock mud, paint drips, and you name it in the construction world. We began work and rinsed every square inch of the parking lot and scrubbed where required. With our state of the art equipment and hot water steam cleaning wash rigs, we were able to complete the project with time to spare and the customers were extremely happy! Post-Construction cleanups are not for the average pressure wash guy, and definitely not for anybody without an experienced crew ready to work another 6-8 hours after the regular work day! We are ready and prepared for even the worst Post-Construction Clean-Up jobs.
Gallery Of Commercial Pressure Washing
If you are looking for commercial pressure washing company in Spanish Fort, then please call 251-263-5057 complete our online request form.