Why Parking Garage Cleaning is Essential for Your Business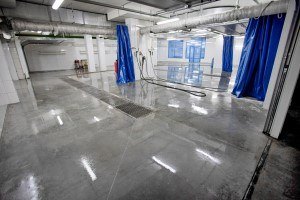 There's a difference between owning a business and running a successful business. The details are what pack a bigger punch than you realize.
Unfortunately, every year, as countless failed entrepreneurs close their doors for good, they're left wondering what they could have done differently. What should they have tried that they missed the mark on?
It loops back to details, including seemingly minor details like scheduling regular power washing. Not just any pressure washing either, professional parking garage cleaning is a critical part of making your business a successful venture.
What's Parking Lot Maintenance Got to Do With It
It's a mistake to think all of your business's success depends on what happens once your customers enter your front door. The parking area is where their experience with your brand starts.
Successful companies recognize this and get proactive about scheduling regular parking garage cleaning. Reap the benefits such as:
Make a good first impression - The erroneous belief is that your storefront is what makes the first impression. While that should be professionally cleaned too, the real sizing up begins while your potential customers are still finding a spot to park in. A dirty parking lot may not prevent someone from continuing on to your brick and mortar location, but it's going to start the experience off on the wrong foot.
Keep conditions safe - A dirty parking lot isn't just unsightly; it can pose a threat to foot traffic. Oil, grease, and algae are the biggest offenders when it comes to substances that can lead to slip-and-fall incidents. Cleaning also unearths any repairs that need to be made, and that can be a hazard for both foot and vehicular traffic. Simply put, keep your parking area clean and safe.
Maintain that property value - Savvy business owners understand the importance of getting a high return on investment. This includes even the property that you own. If you end up deciding to sell your property, you should be able to get top dollar for it. Retain the worth of the structure, parking, and sidewalks, and that won't be a problem.
Our Pros Know
SoftWasherz has earned an impeccable reputation for offering customers a high-quality clean from our pressure washing. As business owners, we feel for other entrepreneurs trying to get their venture off the ground.
It's critical not to miss the details that seem unimportant that can cost you dearly. Call us today for service from our Mobile power washing team that makes a drastic difference.
If you are looking for grarage power washing in Daphne, AL area home or commercial building, please call 251-263-5057 complete our online request form.